About the Easi-Grip Garden Fork
The Easi-Grip Garden Fork is designed for gardeners who experience aches and pains in their wrists whilst gardening.
The ergonomic angled handle on the Easi-Grip Cultivator keep hand and wrist in its most natural position, relieving wrist and hand strain.
This tool can be used with the Easi-Grip Plug-in Arm Support Cuff which allows the strength of the forearm to also be used
Stainless steel tool, prevents soil adhesion for easier use and cleaning
Ergonomic handle keeps hand in natural position, preventing strain
Non-slip grip, prevents tool slipping in the hand even in wet conditions
Brightly coloured handle – easy to find in garden or shed
Extremely light-weight
For more information please read the product specification.
Easi-Grip Garden Fork Specification
| | |
| --- | --- |
| Overall Length | 270 mm (10½") |
| Weight | 268 g |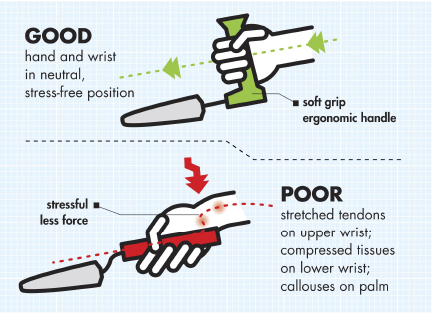 Easi-Grip Garden Fork Reviews
Delivery and Returns
Delivery of this product will be made directly from the our distributor in approximately 3-5 working days.
You can track the progress of your order in the My Account section of this website, provided you register a password during the checkout process.
If you have any questions about the product or need to return it to us, in the first instance please email info@manageathome.co.uk or call our customer services department on 0800 910 1864
Please note: supply chain issues are currently causing unexpected delays in product supplies. If urgent delivery is important to you, please contact us via Live Chat, email or phone and we will confirm exact stock availability for you now and advise on delivery.
Product Enquiry
Enquire about this product