Website Security
Your Password
You can browse and purchase goods from this website without registering and creating a personal account. You will not however be able to check the status of your order or save your invoice and delivery address(es) without a password. You can create an account at any time, or when prompted to do so when making a purchase. Once you have created an account, you can sign in by using the Sign In button at the top right hand corner of any page or the My Account link on the main navigation bar.
If you forget your password; simply go to the Sign In page and click on the forgotten password link. Enter your registered email address and we will email you a temporary password. please follow the instructions on the email to reset your password.
Website Data Security
We are committed to ensuring that your information is secure. In order to prevent unauthorised access or disclosure we have put in place suitable physical, electronic and managerial procedures to safeguard and secure the information we collect online. On the Manage At Home website we use high level SSL encryption technology on every page of our website.
You can tell whether a website is secure as 'https' will show in front of the www.manageathome.co.uk in the internet address window. Also, depending on your web browser - a small padlock may display at the left hand end of the address bar - for your piece of mind you may click on the padlock to view the validity of our SSL Certificate.
Payment Security
All payment transactions on the Manage At Home website are taken through an integrated Elavon (formerly Sage Pay) secure payment system. Elavon collect the card details you enter and process your payment on our behalf. We do not capture any of your card details ourselves and have no access to them. You can be sure that this is very secure. Our Elavon payment gateway also provides the option to pay through PayPal.
Elavon is audited annually under the Payment Card Industry Data Security Standards (PCI DSS) and is a fully approved Level 1 payment services provider, which is the highest level of compliance. They are also active members of the PCI Security Standards Council (SSC) that defines card industry global regulation.
To give you even more confidence in the payment system, our Elavon integrated system also has 3D Secure Authentication - the latest fraud prevention initiative introduced by the banks, Visa and Mastercard. These are called Verified by Visa and MasterCard SecureCode™
To use this service, you must first register with bank or other organisation that issued your card. to find out more about these services: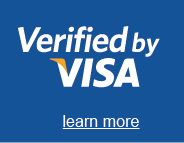 Visit the Verified by Visa website
Visit the MasterCard SecureCode™ website
Cookies
Cookies are tiny text files stored on your computer when you visit certain web pages. The Manage At Home website uses cookies to keep track of what you have in your basket and to remember you when you return to our site. We also use additional cookies to support analysis of use of our website and other services. For detailed information on cookies and how we use them please visit this page: Cookie Policy